MINI PIG AWARDS
Coccolino is an award-winning mini pig. Cocco was nominated for the BlogPaws Nose to Nose Awards again for Best Other Pet category for 2014!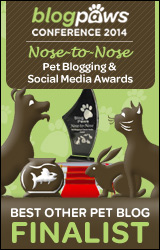 We were honored to have been nominated for two BlogPaws Nose to Nose Awards: Best Wiggle Blog and Best Blog Design for 2013!
We were THRILLED and speechless to have won for Best Wiggle Blog 2013, allowing us to donate pet food to our favorite charity. We truly thank our readers and BlogPaws for choosing us!
Cocco is part of the cover story of the January 2013 issue of Rochester Magazine!
Sadie the Shih Tzu asked us to be a guest blogger. We wrote about what it's really like to have a pet pig! Includes a top ten "Wish I had known before I got a pet pig." Read the article here.
Pet Blogs United's post on Cocco
Wordless Wednesday on Pets Blogs
Cocco is also earning awards from his friends – thank you!
The Sunshine Award from Happiness is a Siamese
The Field of Flowers Award from Nerissa's Life
Thank you to best pal Bacon for the WordPress Family Award!
Thank you to quite a few of you for the Opposites Attract Award! Quite an honor for a wee piggy.
Thank you Nerissa for the Wonderful Team Member Leadership Award!
Thank you, H. Finn, for the Inspiring Blog award!
Thank you, Sammy and Speedy, for the Why I Love Thee award!

Thank you to Peace Love & Whiskers, Honey I Shrunk the Pig and Speedy the Cheeky House Bunny for the Sisterhood of the World Bloggers Award!

Thank you, My Three Moggies and My Two Pitties!
Thank you, Daisy!
Cocco is a good friend after all and received a Diamond award. Thanks Mollie & Alfie!

Cocco won his first competition! No surprise it's for being naughty. Thanks Sammy for hosting!
Thanks Remy and My Two Pitties for the Super Sweet Blogging Award!

Coccolino received the One Sweet Blog award. Thanks Misaki for passing it on!